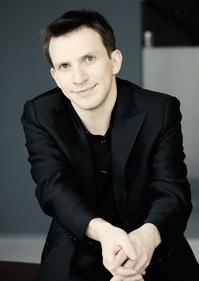 Cornelius Meister to Take Position of Principal Guest Conductor of YNSO from 2017/2018 Season.
Yomiuri Nippon Symphony Orchestra is happy to announce that it welcomes Maestro Cornelius Meister as its Principal Guest Conductor as of April 1, 2017. His term is to be three years until March, 2020.
Mo. Meister is a young promising conductor, who is Chief Conductor and Artistic Director at the ORF Radio Symphony Orchestra Vienna (RSO) and will be the new General Music Director at Stuttgart State Opera and Stuttgart State Orchestra from 2018/2019 season as the successor of Mo. Sylvain Cambreling, who has also been acting as YNSO's Principal Conductor. Mo. Meister first appeared at YNSO in September 2014, conducting a program including R. Strauss' Alpine Symphony, and won acclaim for that performance. YNSO expects much from his capability to have achieved successful outcomes in Heidelberg as General Music Director and at RSO as well as his wide repertoire and abounding musicality, and hopes that the young conductor leads the orchestra to further improvement in artistry. YNSO is going to collaborate with him for the second time next month. Mo. Meister is to conduct two programs including Mahler's 6th symphony <Tragische> and Brahms' 2nd symphony.
■Message from Mo. Meister
Already when we sallied out to the peak of Richard Strauss' "Alpensinfonie" I felt a very close connection to the Yomiuri Nippon Symphony Orchestra, known among experts in Europe as the best Asian orchestra. Therefore I accepted with great pleasure the offer of becoming their Principle Guest Conductor. I am very much looking forward to enjoying the enthusiasm of the musicians and the lovely Japanese audience over the next years.
■YNSO's concerts to be conducted by Mo. Meister in July 2016
<Subscription Concert No. 560>
July 14 at 19:00 at Suntory Hall
Haydn / Symphony No. 6 in D major "Le Matin"
Mahler / Symphony No. 6 in A minor "Tragische"
<Yokohama Minato Mirai Holiday Popular Series No. 90>
July 18 at 14:00 at Yokohama Minato Mirai Hall
<Popular Series No. 594>July 19 at 19:00 at Suntory Hall
Beethoven / Violin Concerto in D major, op. 61 (Violin = Baiba Skride)
Brahms / Symphony No. 2 in D major, op. 73
■Biography
Cornelius Meister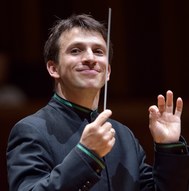 Cornelius Meister, born in Hanover in 1980, was appointed Chief Conductor and Artistic Director of the ORF Vienna Radio Symphony Orchestra (RSO) in 2010. He will begin his tenure as General Music Director at the Stuttgart State Opera and Stuttgart State Orchestra in 2018. He received an International Opera Award for the best production of the season with Peter Grimes in 2016.He conducts a wide range of concert and operatic repertoire, including standard works (such as Der Ring des Nibelungen, the complete Bruckner and Mahler symphonies), rarely performed works (such as the complete Martinů symphonies), collaborations with period orchestras (Die Zauberflöte at the Zurich Opera) and numerous world premieres.In addition to the subscription concerts at Vienna's Musikverein and Konzerthaus, Cornelius Meister conducts the RSO on tours to Asia and throughout Europe, including the Salzburg Festival and the Berlin Philharmonie. All the concerts are broadcast on radio and in the Internet, and some are also shown on television. He has made a large number of CD recordings of works ranging from Haydn to world premieres. He has conducted the Concertgebouw Orchestra Amsterdam, City of Birmingham Symphony Orchestra, BBC National Orchestra and BBC Philharmonic, National Symphony Orchestra in Washington, Mostly Mozart Festival Orchestra in New York, Yomiuri Nippon Symphony Orchestra in Tokyo, Swedish Radio Symphony Orchestra, Danish National Symphony Orchestra, Orchestre de Paris, Orchestre de l'Opéra National de Paris, Ensemble Intercontemporain, Orchestra di Santa Cecilia in Rome, Tonhalle Orchestra Zurich, Orchestre de la Suisse Romande, Deutsches Symphonie-Orchester Berlin and the Radio Symphony Orchestras of NDR, SWR and BR.
Cornelius Meister made his debut at the Hamburg State Opera at the age of 21. Engagements at the Bavarian State Opera in Munich, Deutsche Oper in Berlin, Semperoper in Dresden, Theater an der Wien in Vienna, New National Opera in Tokyo, San Francisco Opera and Royal Danish Opera in Copenhagen followed. Since 2012 he has conducted at the Vienna State Opera (Mozart, Wagner and Richard Strauss), the Royal Opera House, Covent Garden in London since 2014 (Mozart and Puccini) and Milan's La Scala (world premiere of an opera by Giorgio Battistelli for the Milan Expo) since 2015. During the 2016/17 season he will appear at the Vienna State Opera (Fidelio), will conduct new productions in Antwerp (Der fliegende Holländer) and Zurich (Werther) and makes his debut at the Glyndebourne Festival (Ariadne auf Naxos).
Cornelius Meister studied piano and conducting in Hanover with Konrad Meister, Martin Brauß and Eiji Ōue and at the Mozarteum Salzburg with Dennis Russell Davies, Jorge Rotter and Karl Kamper. He was General Music Director in Heidelberg from 2005 to 2012. Cornelius Meister received an award for the "best German concert programme" in 2007 and has since received several awards for his education projects. He has appeared as a pianist in Europe and the US and conducted piano concertos by Grieg, Liszt, Gershwin, Beethoven and Mendelssohn from the keyboard.
*Photo Credit: Marco Borggreve, Yomiuri Nippon Symphony Orchestra