Sylvain Cambreling
[ Principal Conductor ]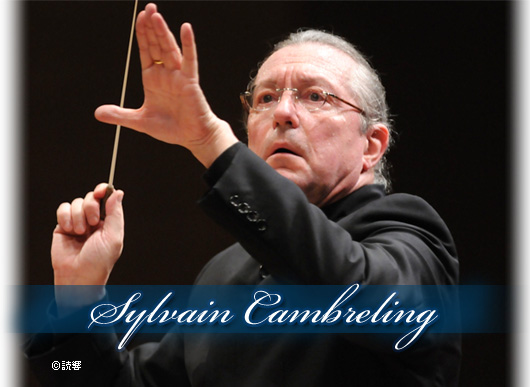 In April 2010 Sylvain Cambreling became the Principal Conductor of the Yomiuri Nippon Symphony Orchestra and in September 2012 takes up the position of General Music Director of Stuttgart State Opera.
French-born conductor Sylvain Cambreling is a musician with big ideas. A thought-provoking, colourful and dramatic artist, and persuasive champion of contemporary music, he has a flair for grabbing the attention of audiences, yet his originality is rooted in thorough knowledge of musicology.
Cambreling was Music Director at La Monnaie for ten years before becoming Music Director at Frankfurt Opera in the 1990s. Productions notable for the introduction of new and often revolutionary ideas include Pelléas et Mélisande and Les Troyens for the Salzburg Festival; Wozzeck, Fidelio and a Ring cycle in Frankfurt.
Sylvain Cambreling has conducted extensively at Opéra National de Paris, where his work has included Saint François d'Assise, Pelléas et Mélisande, Katya Kabanova, La Clemenza di Tito, The Love for Three Oranges, Don Giovanni, Le nozze di Figaro, Simon Boccanegra, Les Troyens, Louise, LaTraviata, Ariane et Barbe-Bleue and Wozzeck.
Cambreling balances his opera engagements with his appointments with the Yomiuri Nippon Symphony Orchestra, Klangforum Wien, and guest appearances in concert with the world's leading orchestras.
A great believer in imaginative programming, Cambreling is famed for the originality of his concert-planning. A speciality is the juxtaposition of contrasting but related works or composers, for example Haydn and Messiaen, or Berlioz's La Damnation de Faust with Schumann's Scenes from Goethe's Faust. Among the boldest of his recent projects is the performance on consecutive evenings of Messiaen's three largest works - Turangalîla, Éclairs sur l'au-delà and La transfiguration de notre seigneur Jésus-Christ.
In 2009 Sylvain Cambreling received the Echo Klassik Conductor of the Year Award and the Deutsche Schallplatten Jahrespreise 2009 for best orchestral CD and in 2010 the MIDEM Contemporary Music Award for his recording of Messiaen with the SWR Freiburg and Baden-Baden Symphony Orchestra.
August 2011

Gennady Rozhdestvensky
[ Honorary Conductor ]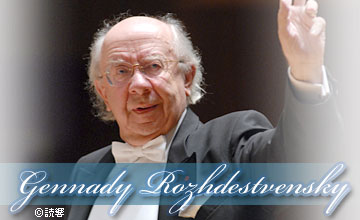 Born in Moscow and studied conducting at the Moscow Conservatory. After conducting the Bolshoi Theatre, he led the Moscow Radio Symphony Orchestra, the Royal Stockholm Philharmonic Orchestra and the BBC Symphony Orchestra as Chief Conductor. Rozhdestvensky worked with the Yomiuri Nippon Symphony Orchestra for the first time in December 1979. In 1990 he was named Honorary Conductor of the YNSO, and since then has appeared with us every autumn. Rozhdestvensky was awarded the Order of the Rising Sun, Gold Rays with Neck Ribbon, in recognition of his outstanding contributions over the years to Russian music.
(Photography:Toshiyuki Urano)

Tadaaki Otaka
[ Honorary Guest Conductor ]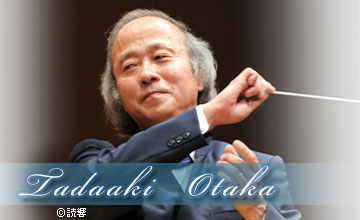 Born in Tokyo in 1947. He studied conducting at the Toho Gakuen School of Music, as well as the Vienna Musikhochschule, and was for 20 years Permanent Conductor of the Tokyo Philharmonic Orchestra. In 1987 Otaka was appointed Principal Conductor of the BBC National Orchestra of Wales, later becoming its Conductor Laureate in 1996. He was named Honorary Conductor Laureate of Kioi Sinfonietta Tokyo in 2003 and now works with Sapporo Symphony Orchestra as its Music Director. Otaka served the Yomiuri Nippon Symphony Orchestra as its 6th Principal Conductor from 1992 until 1998, and led its European tours in 1993 and 1997. In April 1998, Otaka was appointed Honorary Guest Conductor of the YNSO.

Kenichiro Kobayashi
[ Special Guest Conductor ]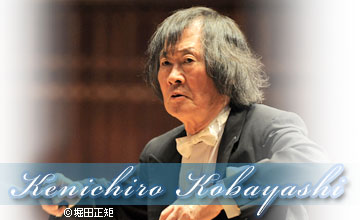 One of Japan's most well-known conductors, Kenichiro Kobayashi has regularly appeared with the Arnhem Philharmonic, the Czech Philharmonic and other leading world orchestras. In May 2002 he conducted the acclaimed opening concert of the complete "My Fatherland" at the Prague Spring Festival.
Kobayashi has released numerous recordings with Canyon Classics and Octavia Records, and is currently recording the complete Beethoven symphonies with the Czech Philharmonic.
After studying composition and conducting at the Tokyo National University of Fine Arts and Music, Kobayashi received both first prize and a special award at the first International Conductors' Competition of Hungarian Television in Budapest. He has also been honored with the Liszt Memorial Decoration, the Hungarian Order of Culture and Hungary's Middle Cross with Star decoration.
Kobayashi joined the YNSO as Special Guest Conductor in August 2011.