Obituary: Gennady Rozhdestvensky, YNSO's Honorary Conductor, passes away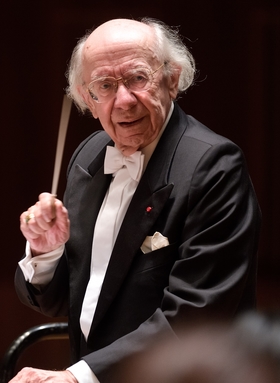 We regret to inform that Yomiuri Nippon Symphony Orchestra's Honorary Conductor Maestro Gennady Rozhdestvensky passed away on the 16th June. He was 87.

Mo. Rozhdestvensky was born in Moscow in 1931. After he studied at the Moscow Conservatoire, he worked as principal conductor of various orchestras including the Bolshoi Theatre, Moscow Radio Symphony Orchestra, Royal Stockholm Philharmonic Orchestra, the BBC Symphony Orchestra and the Vienna Symphony Orchestra, on top of Music Director of USSR Ministry of Culture Symphony Orchestra. He first appeared on the podium of YNSO in December, 1979, and regularly conducted the orchestra since then. He became YNSO's Honorary Conductor in 1990. Mo. Rozhdestvensky contributed to introducing Russian music to Japanese audience over many years, and YNSO performed Shostakovich's all 15 symphonies under his baton. He received the Order of the Rising Sun, Gold Rays with Neck Ribbon in the autumn of 2001.

Mo. Rozhdestvensky's last performance with YNSO was at the Subscription Concert No. 568 on the 19th May, 2017. He appeared as the replacement of Maestro Stanislaw Skrowaczewski, who passed away in February 2017, and conducted Bruckner's 5th Symphony (Schalk edition). Making such phenomenally large scale music, the legendary maestro received thunderous applause and cheers.

YNSO would like to heartily express gratitude to Maestro Rozhdestvensky for his great contribution to the orchestra and deepest sorrow at his passing.

<Picture> Mo. Rozhdestvensky conducting in his last performance in Japan: Subscription Concert No. 568 held on 19 May, 2017.