YNSO's principal conductor Sylvain Cambreling will conduct Olivier Messiaen's opera Saint François d'Assise (Concert Style) in Tokyo and Shiga Prefecture in November 2017. This will be the Japan première of this opera as a full-length performance.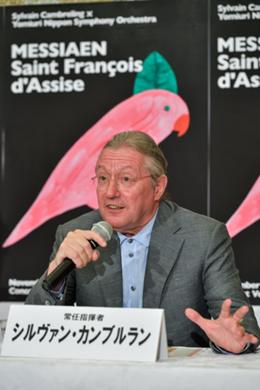 YNSO celebrates its 55th anniversary in 2017, which is also the year of 25th anniversary of the French composer's death. A monumental opera in the 20th century,
Saint François d'Assise
is a great work that lasts more than 4 hours. These will be historical performances in music scene in Japan. Mo. Cambreling, renowned as a Messiaen specialist, has conducted this masterpiece in 24 performances in Paris, Madrid and Bochum (Ruhrtriennale) in 4 productions.
We hope a lot of Messiaen fans visit Japan from all over the world for our performances.
The outline of the performances is as follows:
<Opera>
Olivier Messiaen / Saint François d'Assise , an opera in 3 Acts and 8 Scenes (Concert Style)
-- To be performed in French with Japanese supertitles; Japan première as a full-length performance.
<Casts>
Conductor: Sylvain Cambreling
Orchestra: Yomiuri Nippon Symphony Orchestra
L'ange: Emőke Baráth
Saint François: Vincent Le Texier (Baritone)
Le lépreux: Peter Bronder (Tenor)
Frère Léon: Philippe Sly (Baritone)
Frère Massée: Ed Lyon (Tenor)
Frère Élie: Jean-Noël Briend (Tenor)
Frère Bernard: Hidekazu Tsumaya (Bass)
Frère Sylvestre: Zhong Hao (Bass)
Frère Rufin: Shigeru Hatakeyama (Bass)
Chorus: New National Theatre Chorus, Biwako Hall Vocal Ensemble (Chorusmaster: Kyohei Tomihira)
<Schedule>
Sunday, 19 November, 2017 / 14:00 / Suntory Hall (Subscription Concert No. 572)
Thursday, 23 November 2017 / 13:00 / Biwako Hall
Sunday, 26 November, 2017 / 14:00 / Suntory Hall (Popular Series No. 606)
<Tickets>
19 and 26 November (Suntory Hall) / S=¥14,000, A=¥12,000, B=¥10,000, C=¥9,000
23 November (Biwako Hall) / SS=¥16,000, S=¥14,000, A=¥12,000, B=¥10,000, C=¥9,000, D=¥7,000, E=¥5,000, U30 seat=¥3,000, U24 seat=¥2,000
Date of sale: 3rd June 2017
<Websites>
Performances in Tokyo: Yomiuri Nippon Symphony Orchestra
Performance at Biwako Hall: Biwako Hall